Healthy Food in Bali: Discover Best Restaurants for Nutritious Food
Bali is known for its golden beaches and paradise-like scenery. But apart from dream vacations and Holiday getaways, Bali has amazing cuisine that can perfectly supplement your future travels.
Bali's many delicious and unique dishes make it the perfect place to sample Southeast Asian cuisine. And as luck would have it, these dishes and cuisines are perfectly healthy and excellent for travelers looking to get into shape. Therefore, this guide will come in handy whether you're a foodie or looking to sign up with the best gym in Bali.
Bali has plenty of restaurants and cafes that offer health-conscious menu items. So whether you're looking for a vegan-friendly entrée or a fresh-pressed juice, Bali has something for everyone.
This guide will focus on Bali's best places to eat healthy foods. More specifically, we will focus on the areas of Canguu and Seminyak. So with all that said, let's begin.
Best Places to Eat Healthy Foods in Canggu
Canggu is a world-famous resort village located on Bali's southern coastline. The beachside towns are famous for their surf spots and cultural attractions. For visitors who love to sit down for a meal between travels, here are the best places to eat healthy foods in Canggu.
LowCal Eatery Bali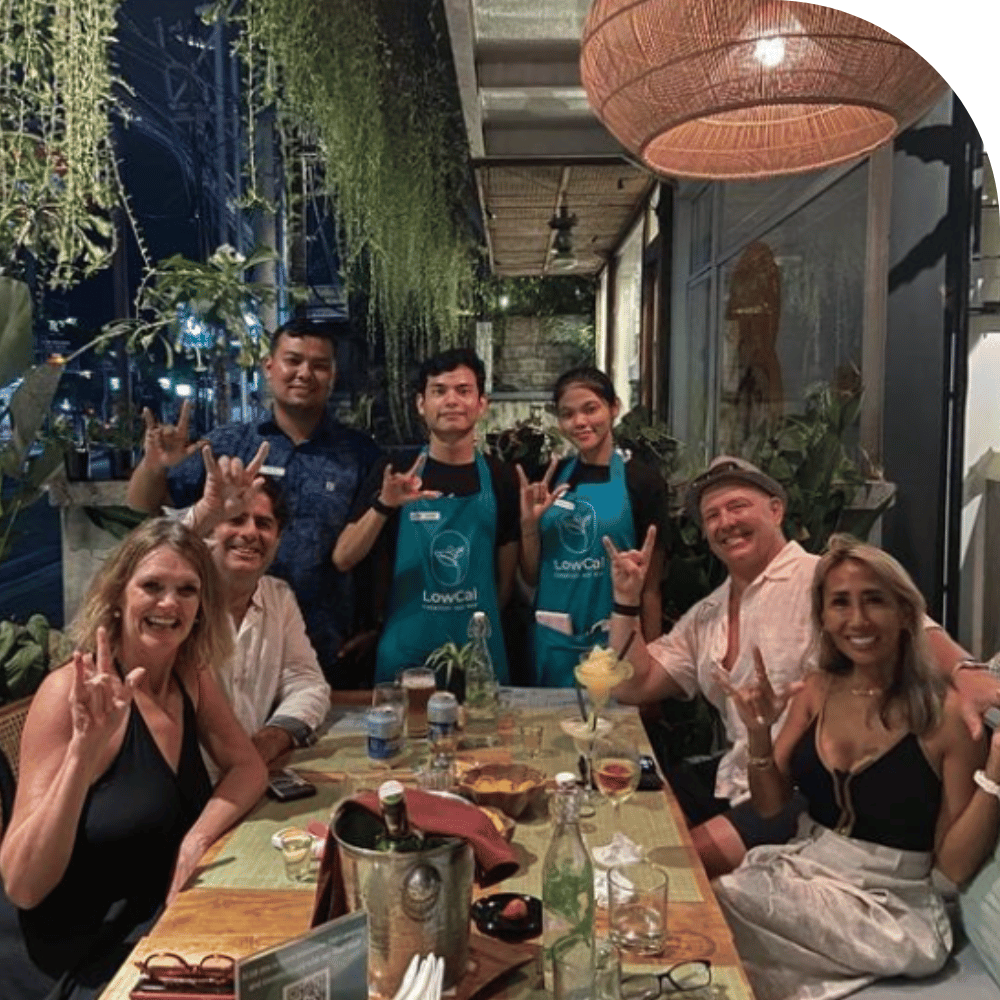 There are few more welcoming places to enjoy a healthy meal than LowCal. LowCal Eatery Bali is a unique bar/restaurant serving all kinds of meals. From Apple Crumble Dessert to their signature Chicken dish, these foods are healthy and delicious!
What makes this restaurant so unique is the focus on low calory, paleolithic, and ketogenic dishes. It is also a restaurant that employs deaf waiters, chefs, and bartenders, essentially employing people from one of the most vulnerable communities.
Because of that, LowCal has a reputation for being caring and thoughtful towards its employees and guests. The restaurant encourages visitors to try and learn sign language, but fear not, as their employees are more than capable of understanding you.
As a member of Bull Gym Canggu, enjoy 20% off at LowCal Eatery – the perfect way to fuel your workouts and stay on track with your health goals!
Healthy Tribes Bali
The next best place to grab a healthy meal in Bali is Healthy Tribes Bali. Healthy Tribes offers both vegetarian and non-vegetarian options. But what's common about both options is the carefully-selected ingredients to ensure each meal is healthy.
From Eggs Benedict to Chicken Salad and all kinds of healthy juices, Healthy Tribes Bali is a restaurant that cares for you and your body. Therefore, it is a popular choice for gym-goers and anyone that watches their diet.
Healthy foods are known to be boring, but Healthy Tribes Bali proves otherwise. We recommend trying gluten-free banana bread or avocado toast. But whatever you order, know that Healthy Tribes Bali takes health seriously.
Superfood Canggu
Superfood Canggu is another great spot for those looking to get their hands on healthy dishes. What sets this restaurant apart from the rest is the focus on organic and locally-sourced produce.
You can be sure that all the ingredients used are of the highest quality and freshest possible. In addition, the menu offers a selection of vegan and vegetarian dishes and some dishes made with fish and seafood.
The restaurant is located next to a few Canggu gyms. And while doing our research, we found that gym-goers love this particular healthy restaurant. Superfood also looks amazing. We recommend going for a meal at night, as the lights and candles make the place even more romantic and cozy.
Burgreens Canggu
Burgreens Canggu is a fantastic place for health-conscious eaters. They offer vegan, vegetarian, and gluten-free dishes and food options for omnivores.
Burgreens Canggu offers a variety of meals that would give you an excuse to go there every day. Even if you're not vegan or vegetarian, there are plenty of cheese/meat options to satisfy anyone's taste. But to clarify, the restaurant is primarily focused on catering to the vegan and vegetarian community. With that said, the restaurant sources greens from local farms. So you'll know you're eating the best possible ingredients.
What makes Burgreens so unique is the focus on healthy eating and weight loss. Because of that, Burgreens offers several weight loss meal plans to satisfy gym-goers and others looking to shred a few pounds.
From smoothie bowls to salads and wraps, Burgreens offers a variety of dishes to satisfy any palate.
The Avocado Factory Canggu
The final addition to our Canggu eateries is the Avocado Factory. This restaurant is dedicated to offering all kinds of healthy meals for vegans and meat lovers alike. Popular dishes include the Poke Bowl, Smoked Salmon, and of course, the endless avocado options.
As a matter of fact, most of the meals here are made with avocados, hence the name and theme of the restaurant. The restaurant also caters to coffee lovers and is a popular breakfast location. The avocado toast is particularly popular for those looking for a healthy breakfast. With phenomenal service and endless avocado options, The Avocado Factory truly lives up to its name.
Best Places to Eat Healthy Foods in Seminyak
The second part of our places to eat healthy foods in Bali guide focuses on Seminyak restaurants. Seminyak is yet another beach resort area in Bali. It is a place where you will find amazing beaches, endless water sports, and all-around fun. But between the beach and the water sports, you will also find a plethora of restaurants. Here are the best ones.
UNIBOWL PokeBowl Bali
UNIBOWL PokeBowl Bali is one of the most popular restaurants in Seminyak. The restaurant offers healthy bowls packed with fresh and organic ingredients, perfect for those looking for a nutritious meal on the go. In addition to poke bowls, the restaurant also offers smoothie bowls, salads, and wraps. 
The restaurant also has an extensive vegan menu which includes vegan sushi. PokeBowl is a Japanese-inspired poke bar that uses organic and sustainable produce from local farms. If you fancy a delicious and quality-made poke bowl in Bali, this is the place to go. 
Nalu Bowls
Some say Nalu Bowls is one of the best places to grab a healthy smoothie and colorful breakfast options. But Nalu Bowls is famous for its bowls, which include the Pipeline, Maverick, and Acai.
All their bowls are delicious and healthy, made with organically-sourced and fresh ingredients to give you the kick to go out and have fun all day. What's great about Nali Bowls is that the restaurant uses honey instead of sugar.
The focus on healthy eating and the use of honey is a great choice. So if you're looking for a healthier option and quality bowls, Nalu Bowls is definitely worth trying.
Sisterfields
The last Seminyak healthy place to visit is Sisterfields. Sisterfields is one of the highest-rated healthy food spots in Bali. It is a popular destination for brunch and offers a variety of options.
Popular meal options include Smashed Avocado on Toast, Truggle Scrambled Eggs, and Eggs Benedict. Sisterfields also offers healthy smoothies, coffee, and juices, making it one of the best places to go out with friends on hot summer days.
Make sure to get there early, as Sisterfields tends to get quite crowded during peak times.
Best Traditional Balinese Healthy Dish Places to Visit in Bali
If you want to sample healthy and traditional dishes while visiting Bali, you should do your research before going out. Luckily, we have already done the hard work for you! Here are the two healthy and traditional places every traveler should go to while visiting Bali.
Warung Local Canggu
Warung Local Canggu is a traditional Balinese restaurant located in Canggu, Bali. It offers a wide range of traditional Balinese dishes with a modern twist.
The restaurant focuses on healthy ingredients, like vegetables and local seafood, to create an authentic Balinese-style meal. The unique ingredients used in the dishes make Warung Local Canggu a great choice for those looking for a healthy and tasty meal.
This place must be on your bucket list if you're working out, as it is the perfect place to refuel your body after an intense workout session.
From Brown Rice to protein-rich dishes, Warung Local Canggu cares about the health of its customers.
Warung Local Uluwatu
Warun Local Uluwatu is the same as Warung Local Canggu. The popularity of this traditional Balinese restaurant has grown rapidly over the years. So much so that you can now find the same traditional and healthy dishes in their Uluwatu branch.
Like the Canggu branch, the Uluwatu branch offers a wide range of healthy and traditional dishes with the same modern twist. The focus on healthy eating is persistent with the Uluwatu location so you can expect the same service and calorie count with each meal.
Best Healthy Juice Bars in Bali
While most places we wrote about do include healthy juices, why not mention a few that offer excellent juice options? These healthy places are excellent for gym-goers and anyone interested in healthy and refreshing juices.
Bull Gym Protein Bar
Bull Gym's Protein Bar offers an extensive list of smoothies and juices to supplement your workouts. The bar is located on the ground floor of the gym and gives you the perfect excuse to sit down with fellow gym-goers to discuss workout routines, new exercises, and other workout-related topics.
The bar is stocked with healthy and protein-rich drinks to give you the necessary fuelling before and after your workout.
Green Guru Smoothie Bowl Bar
Green Guru Smoothie Bowl Bar is a unique spot for healthy eaters. With delicious smoothie bowls and fresh cold-pressed juices, there's something for everyone.
The menu features a wide array of options with different combinations of fruits, vegetables, nuts, seeds, and superfoods. For health-conscious people, the smoothie bowls and juices are ideal as they can be tailored to your specific dietary needs.
Best Healthy Snacks in Bali
Everyone knows snacks are some of the best healthy foods in Bali. Snacks are vital for a balanced diet, but only the healthy variety. Luckily, Bali has many options to choose from. Popular options include protein bars, energy balls, mixed nuts, kale chips, dark chocolate, and more, which Bali has in abundance.
These can be found throughout Bali in cafes, protein restaurants, and supermarkets. These healthy foods in Bali are ideal for hungry travelers and gym-goers.
Are There Any Healthy Food Stores in Bali that Sell Healthy Products?
Yes, there are. People in Bali are very conscious about the foods they eat. The demand for healthy foods in Bali is very high, so there are many healthy food stores throughout the island. The most popular ones include Alive Wholefoods Store, Canggu Shop, and Club Sehat Bali, among others.
Are There Any Local Farms and Farmer's Markets in Bali that Sell Fresh and Healthy Produce?
The answer to this question is yes! Bali has an abundance of small farms and farmer markets scattered across the island. These markets offer fresh and healthy produce, like fresh fruits, vegetables, and herbs. Bali's best and most popular healthy farms and farmers' markets include Pasar Taman Sari, Badung Market, Sindu Market, Kuta Market, and more.