TRAIN, SWEAT & GROW
BULL GYM BALI CANGGU
1.000.000 IDR per month
4.000.000 IDR
for 6 months
0 IDR Initiation Fee
Bullgym is one of the largest fitness center iWelcome to Bull Gym, where our motto is 'Train, Sweat, and Grow.'
We are a gym in Canggu, Bali, that's all about helping others achieve their workout goals. Whether you're a veteran or a beginner, we at Bull Gym welcome you.
Through the help of our personal trainers and F.H.I.T classes, you too will achieve the body of your dreams. So come and join us on an incredible fitness journey where you too can be a part of our big family.
Cardio Area
Fitness Area
Free & F.H.I.T Area
Shower & Cloakroom
F.H.I.T Classes
Protein Bar
What Are You Getting With Bull Gym ?
We at Bull Gym have the best training equipment to satisfy your needs for a good workout. With dozens of years in the industry, we understand the obstacles and challenges gym-goers face when signing up with a new gym. As such, it's our goal to provide new members with the best possible experience and range of equipment. All of our equipment is brand new and state of the art. In addition, we are well-stocked, and you'll have no trouble getting your hands on any equipment.
The gym is divided into three sections. The entire space covers an area of 500 square meters. This gives members enough room to work on individual training without being a nuisance to others.
The first section is the training area. We load the area with barbells, dumbbells, and other free weights.
The second area is loaded with cardio machines. Some of the machines members can use include treadmills, elliptical bikes, stair-stapes, and others. We offer enough diversity so that every member can work with a machine that satisfies their fitness needs.
The last area of the gym is the CrossFit area. The area is loaded with free training equipment and CrossFit equipment to help members work on their strength and resistance. With plenty of barbells, kettlebells, sandbags, resistant bags, rowing machines, air bikes, and CrossFit bikes, we provide members with enough ways to work on functional fitness.
Crossfit Area
Join the Gym With the Best Rates
Our membership rates are flexible and affordable. We offer the best rates in all of Canggu and make it worth your while from 667,000 IDR / month if you take our 6 months pack.
Regular Gym Membership
| | | | |
| --- | --- | --- | --- |
| Six Months | One Month | One Week | Day Pass |
| 4,000,000 IDR | 1,000,000 IDR | 650,000 IDR | 250,000 IDR |
| Free access to the gym | Free access to the gym | Free access to the gym | Free access to the gym |
Please note: We will not make exceptions to our regular gym membership rates*
F.H.I.T Classes
| | | | |
| --- | --- | --- | --- |
| Six Months | One Month | One Week | Day Pass |
| 8,400,000 IDR | 1,600,00 IDR | 750,00 IDR | 250,000 IDR |
| Drop-in rate | Drop-in rate | Drop-in rate | Drop-in rate |
Our F.H.I.T classes rates apply to members and non-members. Participants who haven't joined the gym get access only to the F.H.I.T classes, not the gym.
We offer a special promotion that gives you access to our F.H.I.T classes and the gym. The combo rate is only available for one month and costs 2,000,000 IDR.
Meet Our Staff
The people working at Bull Gym are friendly and welcoming. Our team is more than happy to assist with any information and resolve any issue. At Bull Gym, you'll have no problem feeling like a part of a community.
Meet Yannick and Stephanie – Our Personal Trainers
Bull Gym pairs you with the best personal trainers to satisfy your workout needs. Yannick and Stephanie are an excellent team that met eachother 27 years ago in France. After managing a fitness gym for more than 15 years, they decided to come to Bali to share their wealth of experience and passion for fitness and bodybuilding by creating Bull Gym.
Yannick
Yannick is a certified powerlifting and bodybuilding trainer that has competed at a very high level. One of his primary goals is to prepare professional athletes for numerous competitions, such as the French Elite Powerlifting Championship. His pedigree in powerlifting is further cemented through his achievements. He holds several powerlifting titles such as the 2006 European Championship, 2005 World Championship, and 2003, 2004, 2005, 2007, 2008, and 2009 French Powerlifting Championship. Yannick's personal best is a French record for open squatting 325 kg.
Stéphanie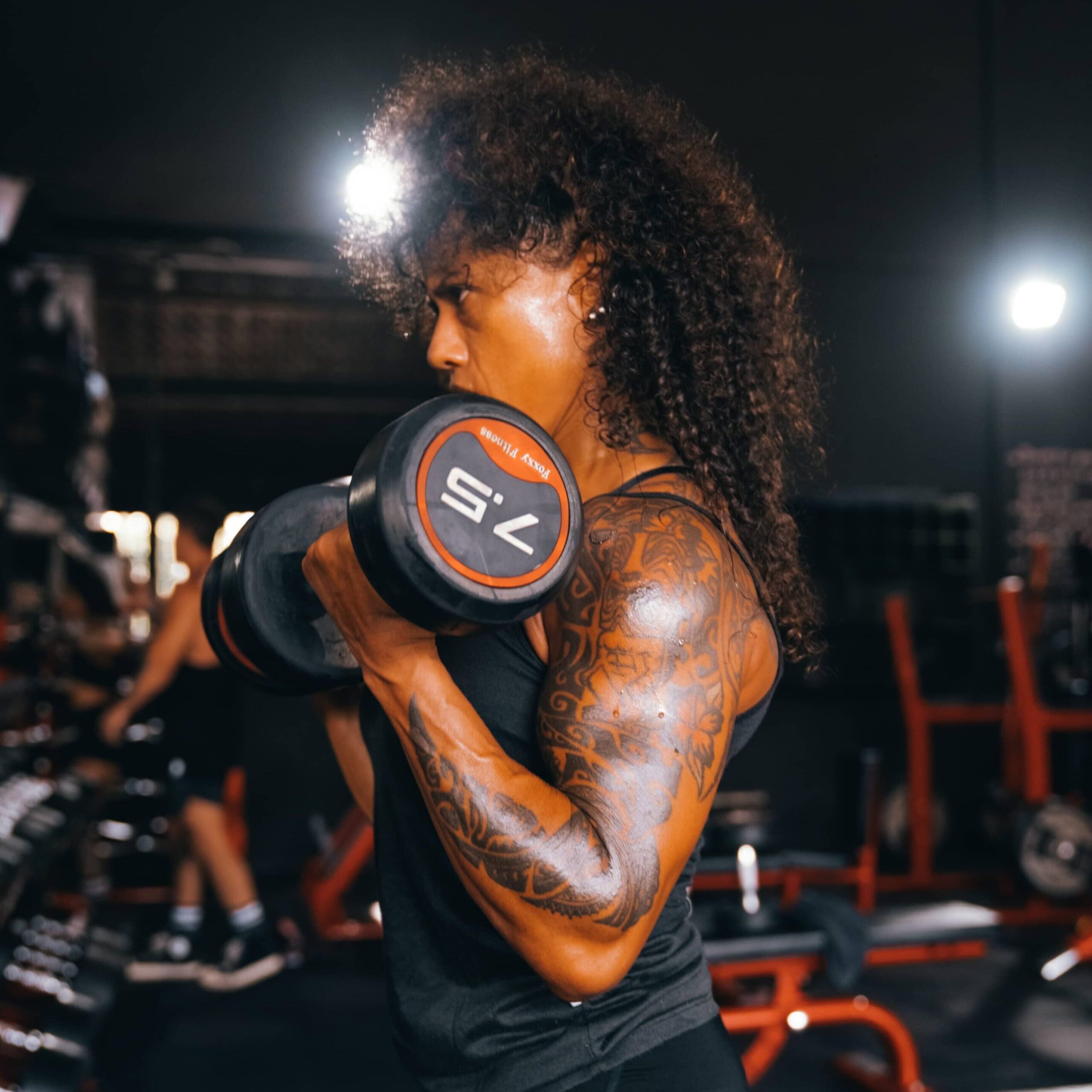 Stephanie is also a certified powerlifting and bodybuilding trainer that prepares professional athletes to compete for powerlifting championships. Much like her good friend Yannick, she is a decorated powerlifter with several titles to her name. Most notable are her 2000, 2001, 2002, 2003, 2004, 2005, 2007, 2008, 2009 French Powerlifting Championships, 2006 European Championship, and her French squat record of 200 kg. Stephanie is more than capable of training beginners and advanced members whose goal is to push their limits and achieve the bodies of their dreams.
Be A Part Of Our Functional High Intensity Class
Our Functional High Intensity Training classes are done in a group setting with six participants. By being a part of our F.H.I.T classes, you will work on various muscle groups with experienced personal trainers. Our F.H.I.T classes take place every day from 8:30 AM to 8 AM.
Train With State-Of-the-Art Facilities
Bull Gym is more than a Bali gym. We offer members state-of-the-art facilities that help with post-workout recovery.
Cloakroom
We have a cloakroom area where you can hang your clothes and lockers to store your items.
Shower
After a nice workout, take a shower to wash off the bad smell. We make sure the shower area is clean at all times.
Protein Bar
Sit down for a protein shake or protein cake before or after your workout.